This course is delivered remotely in smaller half-day segments and has a temporary three-day duration.
Audience
New and experienced public servants alike will be introduced to the fundamental laws that shape government policy, and will round out their knowledge of the mechanics of government; Non-public servants, from business or the not-for-profit sector, will gain an understanding of what makes government tick; This workshop is a good foundational course before taking any of our policy-related workshops.
Overview
This workshop provides both a broad and a detailed road map of government. You will learn about the mechanics of government and Parliament, policy-making and budgetary processes, legislation, and regulations. You can use this workshop as a starting point for our other workshops that provide focused training in one particular skill set.
Topics
Authorities
The origins of democracy
Canada's constitutional framework
The Charter of Rights and Freedoms
An overview of selected statutory authorities and requirements
Government Structures
Parliament
The Executive

Prime Minister and Cabinet
Central agencies

The judicial system
The Executive Process
Memoranda to Cabinet and TB Submissions
Central planning and policy development
Comptrollership and Accountability
Parliamentary Process
Passage of Bills
Parliamentary finance
The Regulatory Process
Skills Taught
You will learn about
The Constitution and the Charter of Rights and Freedoms
Key government-related statutes, such as the Financial Administration Act
Cabinet Directive on Law-making, and the Cabinet Directive on Streamlining Regulations
The structure of government: Cabinet, Parliament, and the Judiciary
Central planning and policy development
Parliamentary process for bills and the Estimates, and Regulatory approval process
Pricing
Regular price from January 16
Unable to attend?
Please contact us to discuss alternative dates that work for you.
Can't see a date you previously saw?
Do not hesitate to contact us.
Course Outline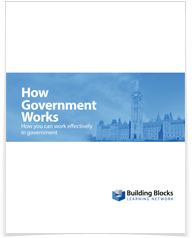 Testimonials
As a person who has worked in government for 14 years I found that it pulled it together."
"As a new employee [of government], I found this course very informative and eye-opening."
"... an excellent course, well-organized and very informative."
"Wonderful course. So interesting! All Canadians should take this course, forget only public servants. Ian, thank you for your knowledge, enthusiasm and your engaging presentation of course content. Loved all the war stories."
"Very informative, very fun!"
"Very interesting. Very well presented."
"First time I actually understand how government works."
"The instructor was quite knowledgeable on the subject matter touched throughout the workshop."